A Free Conference Open To All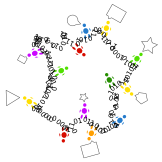 Mongueurs de Perl, AFPy (Association Francophone Python), Ruby France, and European Smalltalk User Group invite you on October 4th & 5th for the 5th Open Source Developers Conference France.
The conference will be held in Paris, at Montrouge Beffroi cultural centre. It will be a major part of the track CODE of the Open World Forum.
Entrance is free and open to all!
---
What is OSDC.fr?
The goal of OSDC.fr is to gather French-speaking developers from different communities around innovative technologies... More details here...
Keep in touch
Watch this space for updates, or check the feed

.
Latest news
20/10/13
Videos of OSDC.fr 2013 are online
Videos of the OSDC.fr 2013 conference are now online on Dailymotion and YouTube
Some more should come.
The organizers thank the speakers for their performances and the audience for... attending.
03/10/13
Pre-OSDC.fr dinner, this Thursday, October 3rd
For the attendees present on Thursday, we propose to gather all at the Belgian restaurant Au Trappiste beginning at 20:00.
Au Trappiste, 4 rue Saint Denis, 75001 Paris
subway station Châtelet, lines M1, M4, M7, M11, M14
» OpenStreetMap | Google Maps
Looking for some more events